Hoop House Bench Installation Completed for a Backyard Homesteader and Gardener
We have a customer in southern Ohio that is not only an amazing customer, but is also a very kindhearted individual that we greatly enjoy building for. She needed some extra growing and seed starting space in her backyard structure and asked us to come back to install these foldable greenhouse benches that we design in house. Her garden expands well outside the size of the structure pictured below (10 ft. wide x 24 ft. long), however, the high tunnel hoop house she purchased gives her a needed jump on the season for crops like tomatoes, peppers, eggplant, cucumbers, etc. The tunnel also gives a space for garden production to continue through the colder Fall months. Spinach, lettuce, salad mix, beets, carrots, and more can all be grown and harvested through the cold.
The particular benches she ordered fold up and out of the way when not in use, and down into a position parallel to the ground so that plants and seeds can be started. The benefit of this is that benches can be installed while still allowing for in-ground planting to occur. This is notable for any growers out there that are receiving NRCS funding that would like to have benches; the benches will provide space for plant starts, but you will still maintain the in-ground planting status needed for the NRCS funding.
Below is a picture of the tunnel interior with 2 ft. x 8 ft. foldable greenhouse benches locked in the upright position.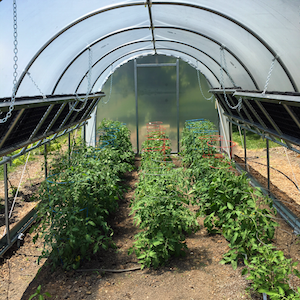 If you think you may be interested in a hoop house of this size, or that you may want to have similar greenhouse benches installed on your hoop house, high tunnel, or greenhouse, please contact Todd at:
phone: (330) 283-5717
email: todd@tunnelvisionhoops.com