4 Ways to Attach Greenhouse Plastic to a Metal Frame - Do it Right the First time
If you are going to be building a high tunnel, hoop house, or greenhouse you may be wondering how the greenhouse plastic is attached to metal framing.
This post takes you through the different methods for attaching greenhouse plastic to metal frame work, and it will compare the most widely used methods for greenhouse plastic attachment so you can make a more well informed decision about how to install the greenhouse plastic on your project.
Related Post: Best Greenhouse Plastic - Comparing Through First Hand Experience
Below we cover the four best ways to attach coverings to metal framing on high tunnels, greenhouses, and hoop houses.
Common Greenhouse Plastic Attachment Hardware for Metal Framing
Attaching greenhouse plastic to metal framing is very easy, however, it will require a few additional pieces of hardware in order to firmly connect the plastic for any duration of time. Lets go over them in a list here, before taking a deeper dive into each type of hardware component.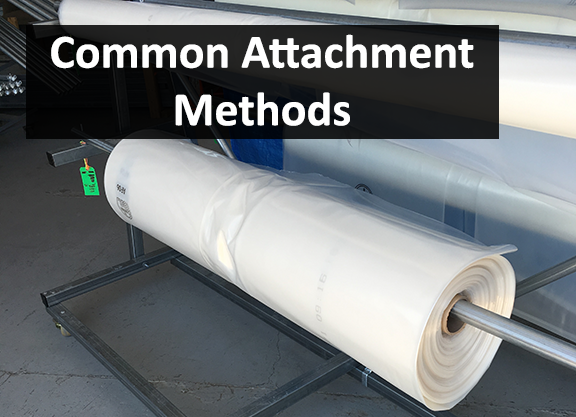 There are four primary ways to attach greenhouse plastic to metal framing:
A handful of ways are available for installing greenhouse plastic on metal framed structures. The four primary ways are listed below, and more detail is provided on each method:
While the list above provides the hardware needed to attach greenhouse plastic to metal framing, some of the above items would make the most sense in a different scenarios. Additionally, each of the above methods for attaching greenhouse plastic will need to be installed a little differently than the next.
Let's go through each attachment method one at a time below, and cover its best uses, where on the framing each component should be installed, and how it actually attaches to the greenhouse frame.
1. Spring Wire Poly Lock Channel - Single Channel
The first, and most popular greenhouse plastic attachment hardware on the market is Spring Wire Poly Lock Channel. Below is a picture of this piece of hardware along with the corresponding piece of wire that holds the plastic in place. If you like the looks of it you can find the channel product page, here.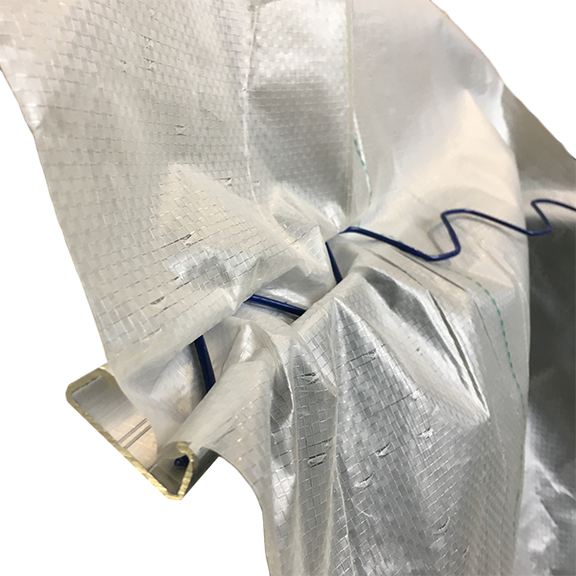 Basic Info on Spring Wire Poly Lock Channel
If you want to secure greenhouse plastic permanently, or semi-permanently, or if you need to install greenhouse plastic on a section of metal framing that curves, this hardware component is for you.
Sometimes this hardware is referred to as "U Channel" or "C Channel" or "zig zag Wire" or "Lock Channel", but regardless of the branded name, the channel all works in the same way to hold greenhouse plastic in place.

Comprised of aluminum, or sometimes galvanized steel, the channel can be secured to lumber, round steel tube, and square steel tube. After the channel is secured, the plastic is installed into the channel by using a corresponding piece of Spring Wire.
Wiggle the Spring Wire back and forth over the greenhouse plastic and into the channel, and you have secured your plastic to your greenhouse structure firmly. This makes it nearly impossible to pull the plastic out of this channel after it has been secured. Here is a video that shows the process for installing the Spring Wire in the wiggle motion I mention above:
Screwing the Channel to Metal
While Spring Wire Poly Lock Channel is very easy to use for securing greenhouse plastic, the channel itself must first be attached to the metal framing of your structure at any points you want the plastic to be secured.
Poly Lock Channel is secured to metal framing using Self Tapping Tek Screws. This sounds daunting because you will need to screw through the channel, and into metal, but the Tek Screws are designed to drill through the channel AND the steel tubing beneath, and they be driven without too much effort.
Below is a picture of what a Tek Screw looks like holding Poly Lock Channel in place: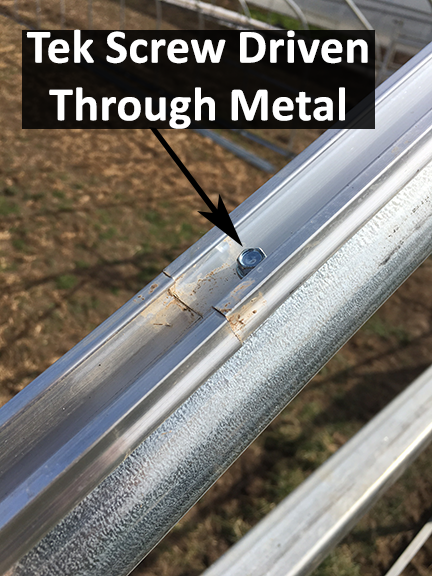 Whether you have a gothic style greenhouse, a Quonset tunnel, or a flat end-wall face, you will find that the Spring Wire Poly Lock Channel attaches firmly to the framing with self Tapping Tek Screws, and takes shape to whatever is beneath it, as you move along its full length with the Tek Screws.
Making a Contiguous Seal
The benefit of this hardware component is that it creates a contiguous seal from weather and wind due to the fact that these pieces of hardware are installed one right after the other so that they butt up to each others ends without any break in their span.
See the picture below that shows how two pieces might line up at their ends.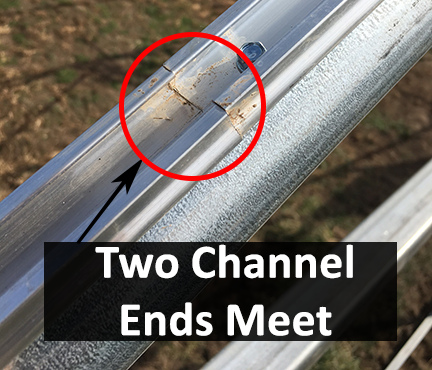 Another reason this securement method is so popular is that you can install the plastic with Spring Wire AND take it out without damaging the greenhouse plastic.
This means you can make adjustments to your top cover if it wasn't put on perfectly square initially, or if you need to remove an end-wall piece of plastic so that a tractor can get in and out of your tunnel. This feature makes this hardware component one of the most important for building a high tunnel or hoop house because without it you would have a very difficult time covering your structure.
Spring Wire Poly Lock Channel typically comes in 4 ft., 6 foot, 8 foot, and 12 foot pieces, however, they are most commonly sold in six foot pieces due to the fact that they can ship relatively affordably in that length. When purchasing this hardware component, be careful to read the fine print, because not all suppliers will include the necessary wire along with the Poly Lock Channel itself. To take a look at the product page for the channel WITH the wire included, click here.
Single Aluminum Channel is so popular among greenhouse builders that there is also a double channel option that should be considered during specific aspects of any poly installation. Let's go over the double channel option a bit more below.
2. Double Channel Poly Lock and Spring Wire
Double aluminum channel is very similar to Single Aluminum channel except it provides twice the channels, and thus, twice the securement potential. You can see an example of Double Channel Poly Lock in the picture below. There are a few pieces of single channel that are butting up to it, and you can see that the double channel is more robust in its width and rigidity. If you think double channel would work for your project, you can take a look at the type we carry, here.
To learn more about where this channel should be used, how to install it, and more, keep reading.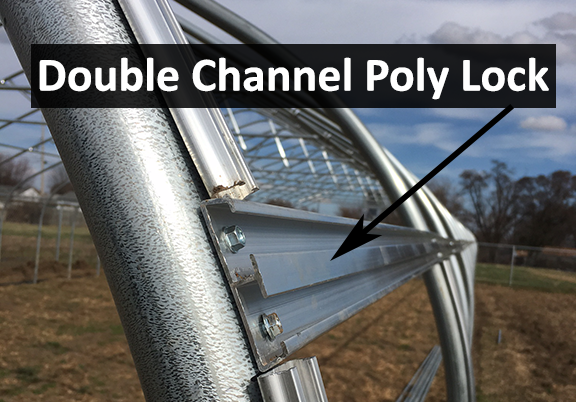 Basic Information on Double Poly Lock Channel
This greenhouse plastic attachment method is essentially two pieces of the Single Channel Poly Lock, but instead they are side by side (as shown above). The Double Channel Poly Lock system is not as widely used for securing Greenhouse Plastic since its double wide shape is not needed for most applications. That said, the real benefit of this Channel is two fold:
Double Channel Poly Lock is rigid, and can be used as a stand alone Hip Rail

The two separate channels allow pieces of plastic to be removed and replaced separately
With regards to its rigidity, it becomes much more of a structural feature than Single Channel Poly Lock.
Because of its rigidity, double channel is often used as a way of eliminating the lumber that is sometimes used on a Hip Rail of a structure. Since lumber hip rails tend to deteriorate in the humid moist conditions of a greenhouse it makes sense to use the Double Channel on its own. Two examples of how Double Channel is installed to metal framing can be seen in the two videos below. One method is a TEK screw securement method, and the other is a bolt and nut attachment method:
TEK Screw Double Channel Attachment Video:
Bolt and Nut Double Channel Attachment Video:
The other reason Double Channel Poly Lock and Spring Wire is so valuable as a building component is that you could more easily replace a cover. For example, if you accidentally drove a shovel through your roll-up side, and you used Double Channel Poly Lock on the Hip Rail, you could simply un-wire the bottom run of wire in your Hip Rail, cut the plastic beneath the top run of wire, and you could replace the roll-up side plastic without ever touching the plastic attachment for your top cover. The potential time savings from installing a Double Channel Poly Lock system for your high tunnel is huge.
Double Channel Poly Lock comes in 6 ft., 8 ft., and 12 ft. sections although if you are looking to purchase this material in the least costly way possible, you would likely want to purchase pieces that can ship via ground shipment, and these can be found here.
While Poly Lock Channel(s) are the most popular greenhouse plastic attachment hardware on the market, there are a few other methods used to hold plastic to a metal frame. we explore some of these below.
3. Snap Clamp Plastic Attachment
Snap Clamps are great for certain applications, and not for others. That said, they are invaluable for creating roll-up sides on hoop houses, high tunnels, and greenhouses, and they are a very cheap greenhouse plastic attachment hardware. The picture below does a good job in showing how a Snap Clamp looks before and after it has been pushed onto the plastic and the metal tubing. If this is what you are looking for, here you can find Snap Clamps that fit three different tube diameters: here.
Below the picture we dive a bit more into how this type of attachment hardware works, what its best applications are, and more.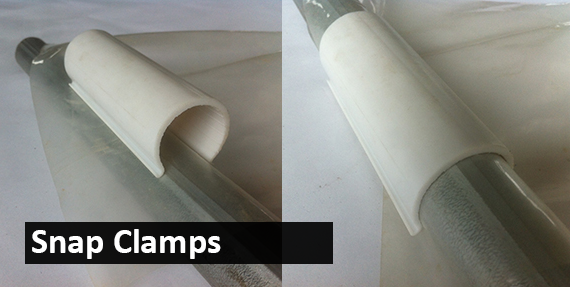 Basic Information on Snap Clamps
Snap clamps are among the most simple to use greenhouse plastic attachment hardware, however, they are only applicable for structures with a set outer diameter to their metal tubing.
The Snap Clamps only come in standard sizes that fit onto 1.315 OD, 1.66 OD, and 1.90 OD outer diameter tubing. If you are working with a structure that is comprised of a different type of tubing that doesn't line up with the diameters listed here you might as well move on to the other hardware items listed in this post.
These hardware components are also only available for attaching greenhouse plastic to round tubing since they were specifically designed to push over top of a plastic or covering onto a tube.
Where are Snap Clamps Best Used
Snap clamps are great for temporary greenhouse plastic attachment, or in instances where low wind pressure and stress will be applied to the greenhouse plastic. For example, interior partitions made using greenhouse plastic are easily held in place using Snap Clamps. Below is a picture of a farmer that installed a partition using Snap Clamps: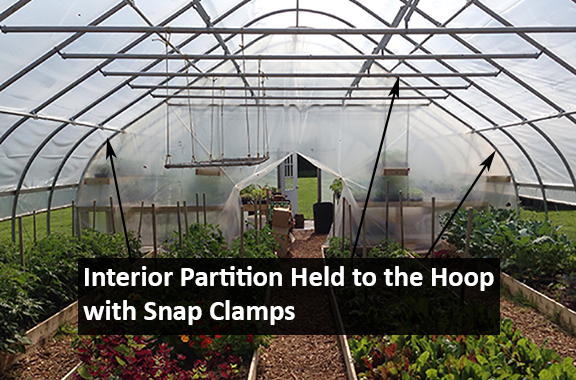 They are also one of the best pieces of hardware for attaching greenhouse plastic to the metal roll bar in order to create roll-up sides. For a closer look as to how the Snap Clamps work when attaching plastic to the metal roll bar on a greenhouse side, check out the video below:
If you are going to be installing greenhouse plastic for a top cover of a structure it would be strongly advisable to consider one of the other hardware items covered earlier in this blog post. This is primarily due to the fact that Snap Clamps don't secure the plastic contiguously the full length of a tube. Instead, the Snap Clamp holds the plastic at the point of the Snap Clamp, which is only approximately 4 inches in length.
Yes, you can daisy-chain a ton of these one right after the other to create full length attachment of your greenhouse plastic, and yes you could drive a self tapping metal screw through each one of these and into your metal framing, however, if you were going to go through that trouble it would make sense to install Spring Wire Poly Lock Channel instead.
With the above being said, Snap Clamps are a fantastic way to hold panels of plastic in place (temporarily) while you are securing pieces in a more permanent manner. Below is an example of how the Snap Clamps can act as an extra set of hands for this process:
Snap Clamps are a very affordable option for securing greenhouse plastic, but they are not permanent, unless being used on roll-up sides. Let's take a look at an affordable attachment option that is also intended to be the primary top cover attachment option.
4. Rope-and-Pressure Plastic Installation
Clamping and wiring is not the only way to keep plastic against a metal frame; there is also pressure. Hardware can be attached at the bottom of each hoop, and then rope can be woven back and forth from one side of the structure over top of the structure to the hardware that has been affixed to the other side of the structure. Below is a picture that displays this type of attachment method.
We cover more of the pros and cons of this attachment method below the picture.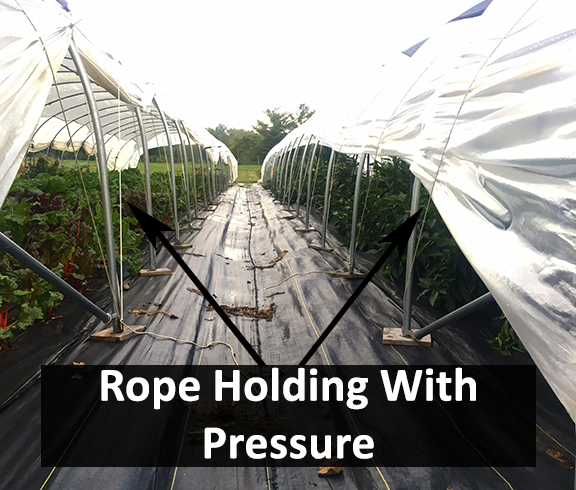 Where and When to Use it
Using rope to hold greenhouse plastic against your greenhouse structure is a low cost method for holding your plastic on your tunnel. It should be noted that this is also a more risky way of holding the plastic on your structure if you are intending to keep the plastic in place permanently.
With the above being said, using rope (and downward pressure) is a good method for keeping your top cover on your structure if you are looking for an extremely low cost way that can be vented without roll-up sides.
Because this method of securing greenhouse plastic doesn't include any type of channel along its length there wouldn't be any hardware to drop a roll-up side from. For this reason, structures using this method of greenhouse plastic attachment are vented by simply pushing the plastic up the side of the tunnel to allow air to move in and out of the structure.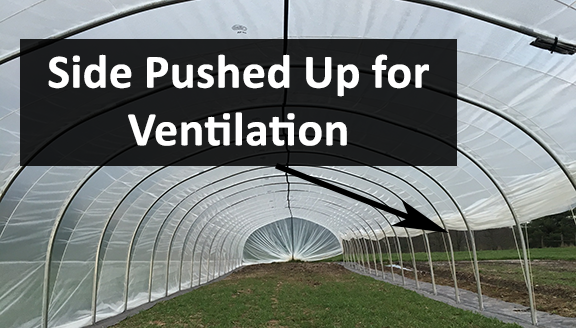 Since this form of greenhouse plastic attachment is more rudimentary, and is intended for less permanent structures it shouldn't be a primary form of greenhouse plastic attachment for large permanent structures.
That said, this is a great way of holding plastic to smaller structures that are often referred to as Caterpillar Tunnels. If a low cost simple structure is what you are looking for I would definitely encourage you to read our other blog posts related to Caterpillar Tunnels so you can consider all of your options:
Consider Reading: Caterpillar Tunnels vs Hoop Houses - Low Cost Growing Structures Compared
Consider Also Reading: Why Caterpillar Tunnels Have Become Popular Growing Structures
If you are looking for some rope for your rope and pressure system, there is 1/4" rope that works well for this application, here.
Now that we have gone through the four most common forms of attaching greenhouse plastic to metal framing below I have put together some recommendations based on my experiences.
Recommendations
The best hardware for attaching greenhouse plastic is Poly Lock Channel and Spring Wire. It is affordable, will last forever, and is very easy to use. Here is a link to manageable 6 ft. pieces that include the Wire: Single Channel
The best hardware for attaching greenhouse plastic as a hip rail is Double Channel Poly Lock and Spring Wire. It can replace lumber, is light and easy to work with, lasts forever, and is easy to use. Here is a link to the best double channel that we have found: Double Channel
The best hardware for attaching pieces temporarily, or for interior greenhouse partitions are Snap Clamps. Here is a link to Snap Clamps that fit three different tube diameters: Snap Clamps
RELATED POSTS